Table of Contents
Assessing Cheque Bounce Risks in UAE
Even though many people use electronic payments now, in countries like the UAE, cheques are still commonly used by businesses and individuals. If you get a cheque, you might worry about it being real or if it might bounce. Luckily, there are now tools to help with those worries.
To address these concerns, the Al Etihad Credit Bureau introduced "ChequeScore", a mobile app. This app checks the creditworthiness of the person or business that gave you the cheque and tells you if there's a high chance it might bounce.
So, how does ChequeScore work?
ChequeScore simplifies the verification process. Here's how:
Get the App: Download the app from the Apple Store or Google Play store.
Quick Registration: Register in the app by providing your personal information.
Capture or Upload: Use your device's camera to scan the cheque, upload its image, or input the data manually.
Fill in the Blanks: Make sure all the details on the cheque are correctly filled in.
Secure Payment: Proceed to complete the in-app payment. (AED10+GST)
Get Your Score: Instantaneously, the app provides a Cheque Score.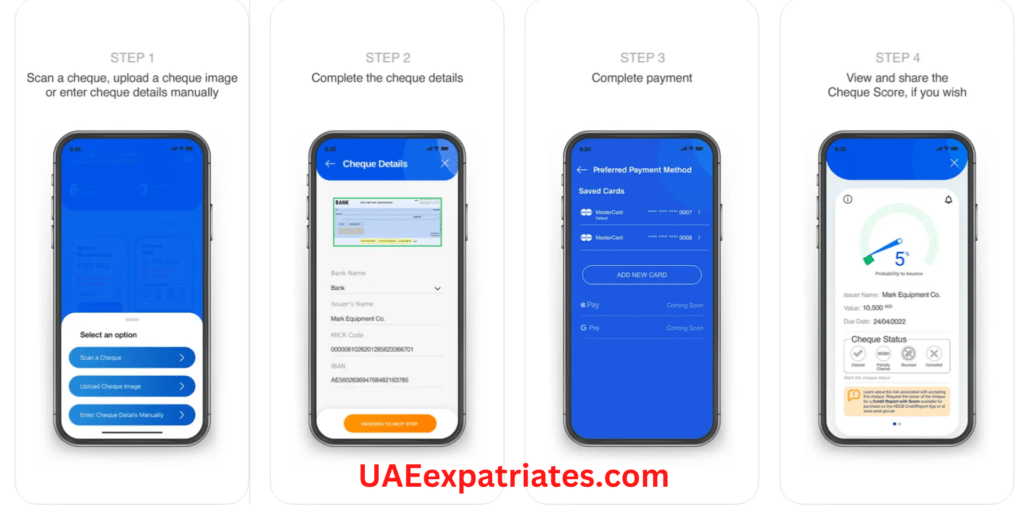 Understanding the Cheque Score
The score predicts the chance of the cheque being dishonoured within the coming nine months. This is visually represented through an intuitive color-coded system:
Green: This indicates that there's a low chance of the cheque bouncing.
Amber: A medium chance.
Red: High chance.
The scores range between 1 to 99%, giving users a clear indication of the risks involved.
The Impact of ChequeScore
For many small to medium-sized businesses, post-dated cheques are an essential means of sustaining operations. Determining the risks tied to each cheque can significantly assist in making informed decisions.
The app doesn't stop there. It also doubles as a management tool, allowing users to:
Monitor All Cheques: Maintain a record of all cheques – both received and issued.
Reminders: Set alerts for due dates, ensuring you or the issuer are reminded timely.
Shareability: Should you wish, you can even share the Cheque Score with others, promoting transparency.
In the UAE, where cheques remain a pillar of business transactions, ChequeScore is an invaluable tool for trust and security. With easy registration and an intuitive interface, safeguarding your transactions in the UAE has never been easier.
More Articles from UAEexpatriates.com: