How to check if there is an absconding case in UAE
The United Arab Emirates is home to millions of expatriates who come to the country in search of better employment opportunities. However, there are certain legalities that one must adhere to while working in the UAE. One of the most important of these is the employer-employee relationship, which is governed by the UAE Labor Law. Unfortunately, instances of absconding are not uncommon in the UAE, where employees may abandon their jobs without informing their employers. This can lead to legal issues for both the employer and the employee. In this article, we will explore how you can check the absconding status in the UAE using the UAEICP app. We will guide you through the process of using the app to check your absconding status and discuss what steps you can take if you find yourself in this situation.
Related Article: How To Check If You Have A Travel Ban in UAE Via Estafser
How to Check Absconding Status on the UAEICP app
To check your absconding status in the UAE, you can use the UAEICP app, which is available for download on your app store. Follow these simple steps to check your absconding status:
Download the "UAEICP" app from your app store
Open the app
On the home page of the app, scroll down and select the option "Public Services"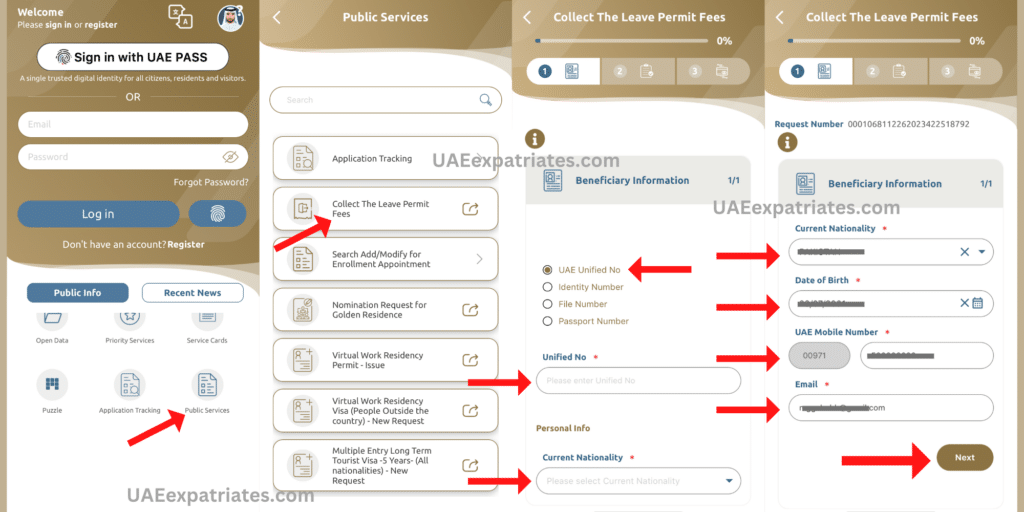 Select "Collect the Leave Permit Fees"
Next, enter your "Unified Number"
Select your Nationality and your Date of Birth
Enter your UAE Mobile number and Email address and click "Next"
If you have an absconding case, you will get an error message which says, "Person Cannot Pay This Fine"
So if you receive this error message, it indicates that you have an absconding case and should take immediate action to resolve it.
Also Read: How to Check a Car's Accident History in UAE
Conclusion
In conclusion, checking your absconding status in the UAE is an important step for any employee working in the country. Using the UAEICP app, the process has become much simpler and more accessible than ever before. By following the steps outlined in this article, you can easily check your absconding status and take appropriate action if necessary. It is essential to resolve any absconding cases as soon as possible to avoid any legal or financial consequences. We hope this guide has been helpful in explaining the process of checking your absconding status in the UAE, and we encourage all employees to stay up-to-date with the latest regulations and laws governing employment in the UAE.
More from UAEexpatriates.com: