Applying Saudi E-Visa for GCC Residents
Saudi Arabia has made it easier for GCC residents to visit the country by allowing online tourist visa applications. This change, effective from September 1, 2022, benefits all GCC residents, including expatriates. Additionally, this visa allows its holders to perform Umrah outside the Hajj season. This guide will walk you through the eligibility criteria, fees, validity, and the process of applying for a Saudi visa for GCC residents.
Eligibility Criteria
To be eligible for a Saudi visa as a GCC resident, you must meet the following requirements:
Possess a valid residency visa from a GCC country with at least three months' validity.
Have a passport with a minimum of six months' validity remaining.
Your GCC residency occupation must be among those listed on the portal as eligible occupations.
Eligible Professions
The Saudi e-visa is available to all GCC residents, excluding those working in driving, labor, and nursing.
Visa Fee
The visa costs Saudi Riyals 300, with an additional health insurance fee. The application fee is non-refundable.
Visa Validity
The visa is valid for one year for multiple entry visas and three months for single entry visas. The duration of stay is 90 days for multiple entries and 30 days for single entries.
Visa for Family Members
While applying for a visa for yourself, you can also apply for your immediate family members. However, they cannot enter the country without you.
Step-by-Step Guide to Applying for a Saudi E-Visa
Follow the steps below to apply for a Saudi tourist visa as a GCC resident: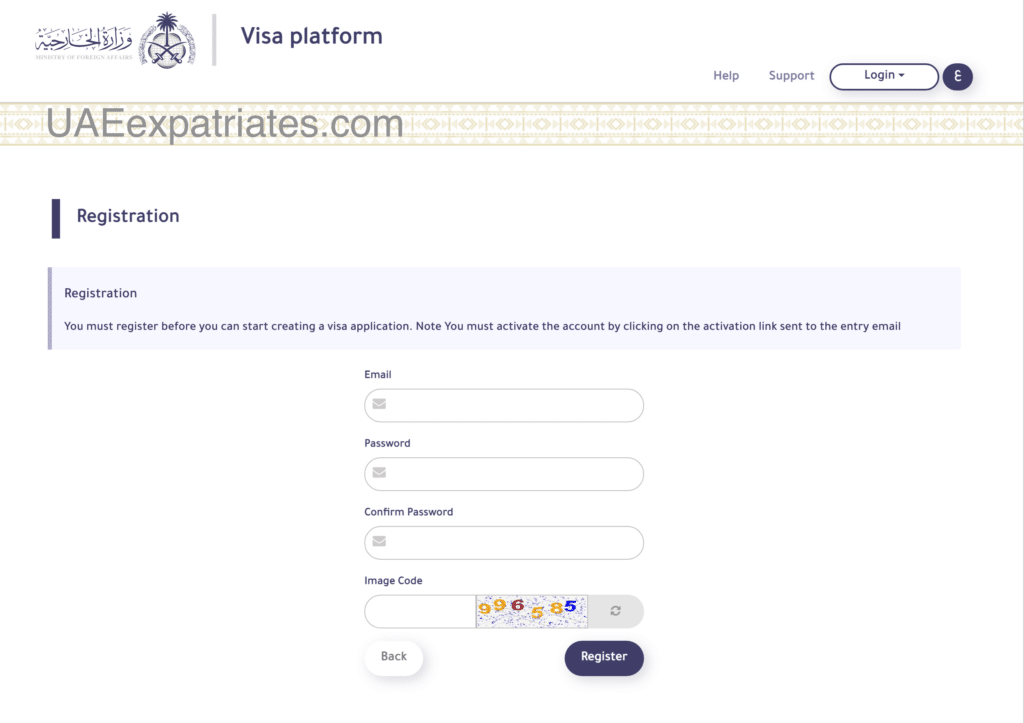 Create an account on the MOFA Visa Portal: https://visa.mofa.gov.sa/Account/Loginindividuals
Register by providing your email address and password.
Log in to the portal and click the "Add A New Application" button.
Complete the visa application, selecting "Tourism Visa" as the visa type and providing all required personal information.
Upload necessary documents, including passport copy, residency visa copy, and passport-size photograph.
Enter your passport details and additional personal information.
Select your port of entry, expected travel date, and the type of tourist visa (Single or Multiple).
Review your application, enter your mobile number and email address, and click "Save."
Choose a suitable health insurance plan from the available options.
Pay the visa fee using a debit or credit card.
After approval, you will receive your e-visa via email. Processing time is currently a few hours but may change in the future.
Tracking Saudi E-Visa Status for GCC Residents
You can check your visa application status by visiting the MOFA website and following these steps:
Select "Visa Application" as the inquiry type.
Enter your Application Number and Passport Number, then click "Search."
View your visa status on the next page.
Conclusion
Applying for a Saudi E-Visa as a GCC resident is now easy and convenient. You can apply from home and receive your visa within hours. Follow the instructions provided in this guide to enjoy a hassle-free travel experience to Saudi Arabia. Don't wait any longer; apply for your Saudi E-Visa today!
This article was originally published on ksaexpats.com.
More from UAEexpatriates.com: