Complementary Du Tourist SIM at Dubai Airport
Visiting Dubai, one of the world's most technologically advanced cities, requires staying connected. The city offers a robust digital ecosystem, and staying plugged in is not just a luxury but a necessity. One such essential service offered to tourists is the free Du Tourist SIM card. In this blog post, we will guide you through the process of obtaining, activating, recharging and using your Tourist SIM during your visit to Dubai.
Receiving Your Free Du Tourist SIM at Dubai Airport
The journey towards seamless connectivity in Dubai starts right at the International Airport. Upon your arrival, once you've completed the immigration formalities, you will receive a complementary Du Tourist SIM card along with your entry-stamped passport from the Immigration Officer.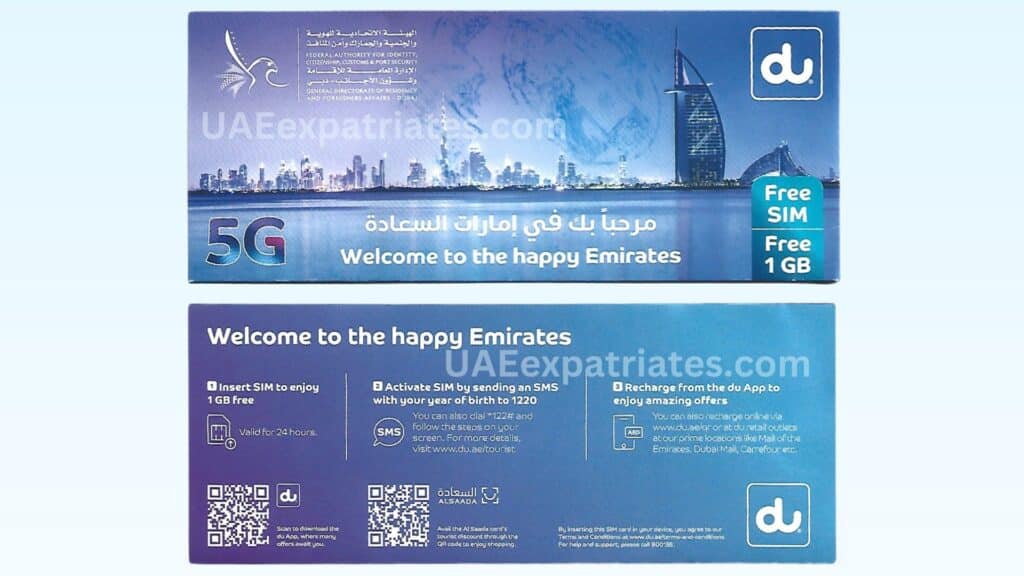 Understanding the Validity of Your SIM
The validity of your Tourist SIM card aligns with the length of your visa. As you exit the country, your SIM will automatically deactivate, and you'll receive a notification about the deactivation. This feature ensures your privacy and data safety once your stay concludes.
Recommended for You: How to Check Your UAE Visa Status with Passport Number
Free Benefits of Your Tourist SIM
Every Du Tourist SIM comes with 1 GB of free internet, which is available for use within the first 24 hours. After you have utilized this allowance, you can recharge your SIM either through the Du website (www.du.ae/qr) or at a local retail outlet.
Activation: A Step-by-step Guide
Activating your SIM is an easy process. Here's how:
Insert the SIM into your phone.
You will receive a verification SMS from 1220, asking you to reply with your birth year (e.g., if your birth date is 25-February-1990, send an SMS "1990" to 1220).
After successful verification, you can start using your free 1 GB local data for 24 hours.
If you did not receive an SMS from 1220, follow these alternative steps:
Insert the SIM into your phone.
Dial *122# and enter your passport number, country name, and date of arrival, as per your passport.
The system will validate this information. You'll then receive a notification stating that your activation is in process.
Upon activation, you will receive a notification informing you that the SIM is ready for use, including your mobile number.
You Might Also Like: How to Claim Your VAT Refund in UAE: A Guide for Tourists
Your Complementary Du SIM Number
Your mobile number will be sent to you via SMS once the activation process is complete.
Exploring Available Packages for Du Tourist SIM
Beyond the initial free benefit, Du offers several packages tailored to the varying needs of tourists. These range from 2 GB to unlimited data packages, with prices starting from AED 49. Each package also includes Flexi minutes for national and international calls, with some offering unlimited voice and video internet calls.
Converting Your Physical Tourist SIM to an eSIM
For an even smoother connectivity experience, you have the option to convert your physical SIM to an eSIM. This can be done at any Du store at the airport by showing your physical SIM.
Also Read: How to Check Your Nol Card Balance: 3 Easy Ways
Conclusion
Navigating a new city can be challenging, but with Dubai's tourist-friendly approach to digital connectivity, staying in touch with the world becomes seamless. Enjoy your visit and make the most of this fantastic service. Safe travels!